Our News
Trailway Histories
HTG is celebrating a successful bid to the National Lottery Heritage Fund for £5,000 to support their latest project.
Headed by Hincaster Trailway Group with support of Kendal Oral History Group, Trailway Histories is a volunteer led project to collect personal memories of the Hincaster to Arnside Branch railway line as a working railway before 1962 up to the present day.
HTG Secretary, Bridget Pickthall said "Thanks to National Lottery players, this is an opportunity for the local community to find out more about our area. We now have the chance to record the history of the old Hincaster – Arnside Branch Railway Line while people in the local community still remember using and working on it. New memories of the Trailway are being created all the time, whether as a dog walk last week or building one of the bird boxes or helped lay the multi user path and we want to record the memories of this new generation of users too. We are looking for people with stories to tell and those who can help record them. "
The project will be launched with an event at The Athenaeum, Leasgill on Wednesday 6 November at 2pm, when Jean Turnbull of Kendal Oral History Group will present "Railway Workers and their Families in the Early Twentieth Century" from the KOHG archive.
Trailway Histories is scheduled to run until summer 2020 and is appealing for volunteers to make the ambitious project happen.
For more information or to register as a volunteer, visit the Hincaster Trailway website.
YFC Community Challenge August 2017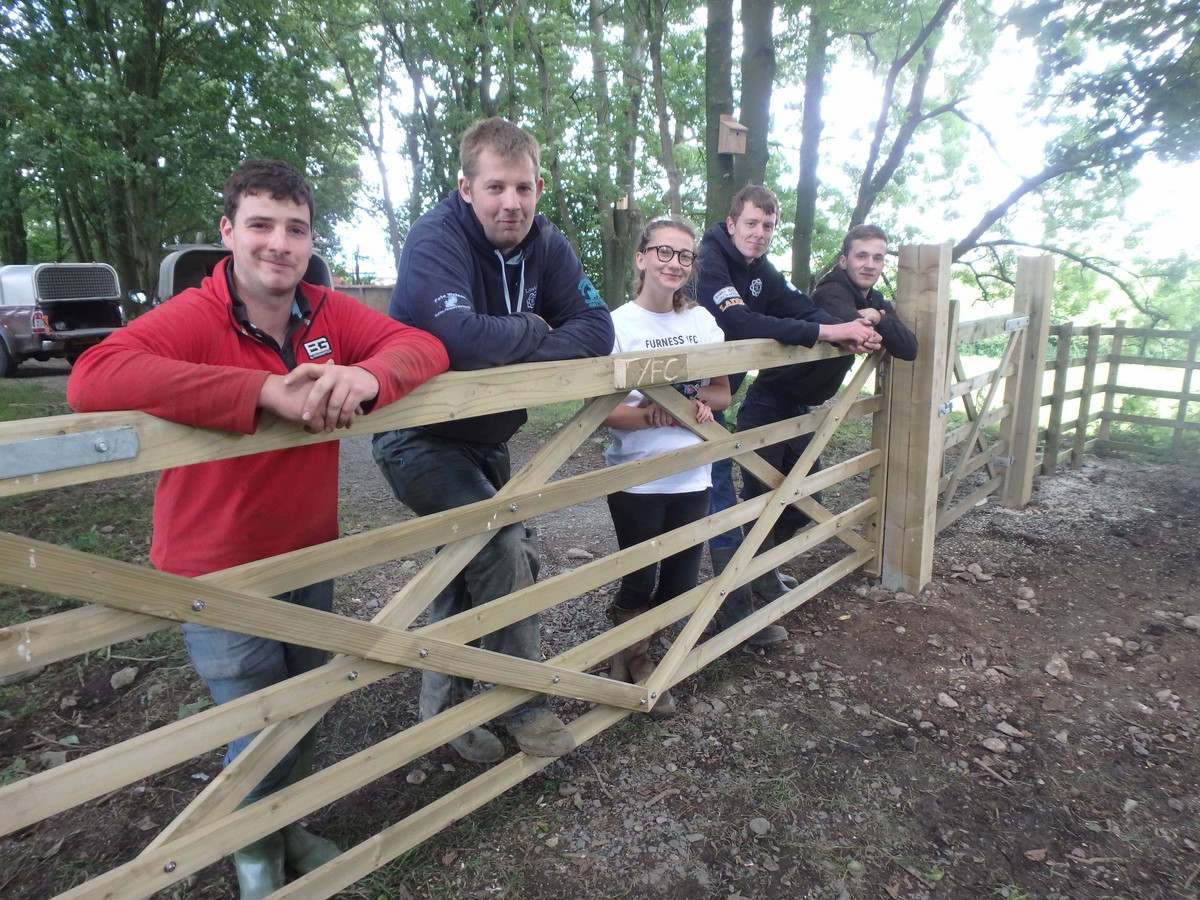 The South Cumbrian Federation of Young Farmers Clubs chose The Hincaster Trailway for their Community Challenge 2017. Members from Furness, Lowick and Grayrigg clubs took a break from their usual farm work to repair fencing and installed 2 new gates at Viver Green.
John Longworth, Chairman of South Cumbria Federation said "Young Farmers work hard all week but are still willing to turn out to help our local community"
Bridget Pickthall, Trailway Group Secretary said "They have done a fantastic job. Volunteer efforts from groups like the Young Farmers make a huge difference to our project ensuring that the Trailway is accessible to all."
End of term activities with St Peter's Primary School, Leasgill. Spring/ summer 2017
During the Spring and Summer of 2017, the 15 pupils from St Peter's Primary School have been involved with projects along the Trailway. In March they had a group walk from school to the Hincaster and back. It was great to hear that many of the children were already familiar with the Trailway from family walks, horse riding and cycling.
In April, Bridget and Eve from the Trailway spent a fun afternoon in school with the pupils making bug houses from recycled materials. The children had been learning about living things in science and were able to take their finished projects home to introduce a new habitat near their houses.
On a Friday night in June, volunteers from South Cumbria Bat Group led a family Bat Walk along the Trailway. While looking for bat habitat they explained how to use bat detectors to identify the local species. Common and Soprano Pipistrelles were identified and the children loved stopping up late.
The summer activities culmulated with a full day on the Trailway. The pupils all had the opportunity to take part in 3 habitat related activities: pulling Himalayan Balsam, building bird boxes from kits and stacking logs to create bug and hedgehog hotels. Bird box kits, materials and technical assistance were all provided by employees from Egg Homes and they were on hand to put the bird boxes up in the trees during the afternoon.
The children sent us super thank you cards and I hope they will continue to visit the Trailway and admire their handy work. It has been a priveledge to work with these young people and we wish them all well in their new schools.
Storth WI Balsam Bash August 2017
Despite challenging weather, members of Storth WI once again supported their Trailway work party.
Five enthusiatic ladies donned their waterproofs to help with the annual Himalayan Balsam Bash.
Although pretty, Himalayan Balsam is an exotic invasive species which out competes our native wild flowers. Each flower has the potential to create 800 seeds which explode over the surrounding area and can grow to 2 metres high in a single year. The plant is growing along the side of the West Coast Mainline and seeding onto the Trailway. The workparty learnt how to pull up and bag the plants before they can seed. 15 bags were collected for environmental disposal.
Viver Green car park and extension Spring 2017
While building work continues on the new houses at Viver Green, the developer EGG Homes have already created a designated off road parking area for the benefit of Trailway users. The parking area will be particularly useful for our less able users and will allow even more people to discover this popular local amenity.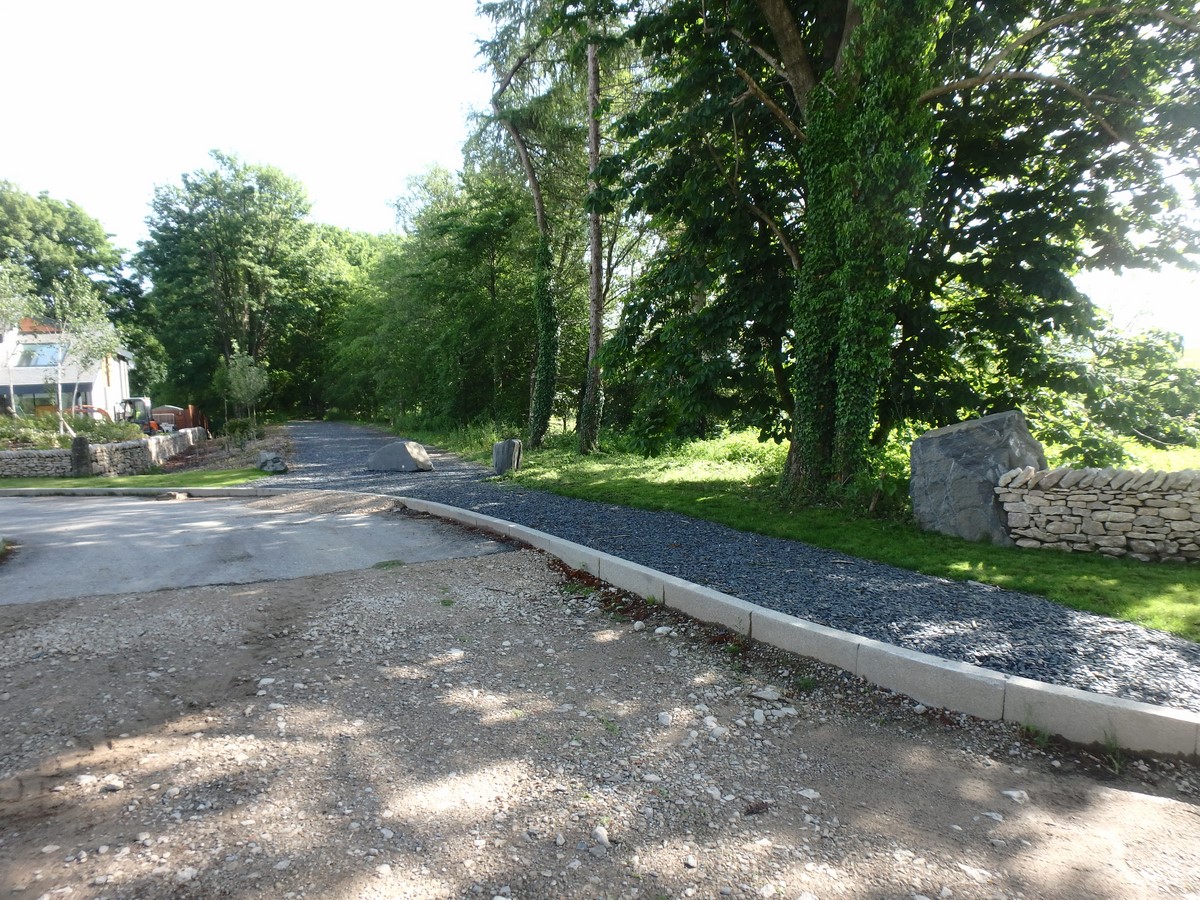 Art Gene Seldom Seen map launch 13 October 2016

Hincaster Trailway features on a new interactive map launched by Barrow based, Art Gene. Internationally acclaimed artists, Maddi Nicholson and Stuart Bastic, have visited the Trailway and surrounding area to research their latest project.
Mapping Morecambe Bay is Art Gene's artist led research programme in partnership with Morecambe Bay Partnership. Various community workshops around the area have encouraged local people to contribute a wealth of information.
The project has resulted in a new map of the area and a free phone app with information about points of interest. The new map and app were launched at various venues around the Bay including Heron Corn Mill.

Storth WI annual work party 2 August 2016
Enthusiastic members of Storth Womens Institute made a welcome return to the Hincaster Trailway for a path clearing workparty. In preperation for summer use brambles and nettles were trimmed back from the path and there was the opportunity to try scything as a pleasant alternative to strimming. An unexpected bonus was a spur of the moment tour of the show home at Viver Green by developer, Ashley Reece. A picnic lunch was provided for the workers once the job was complete.
Storm Desmond 5 December 2015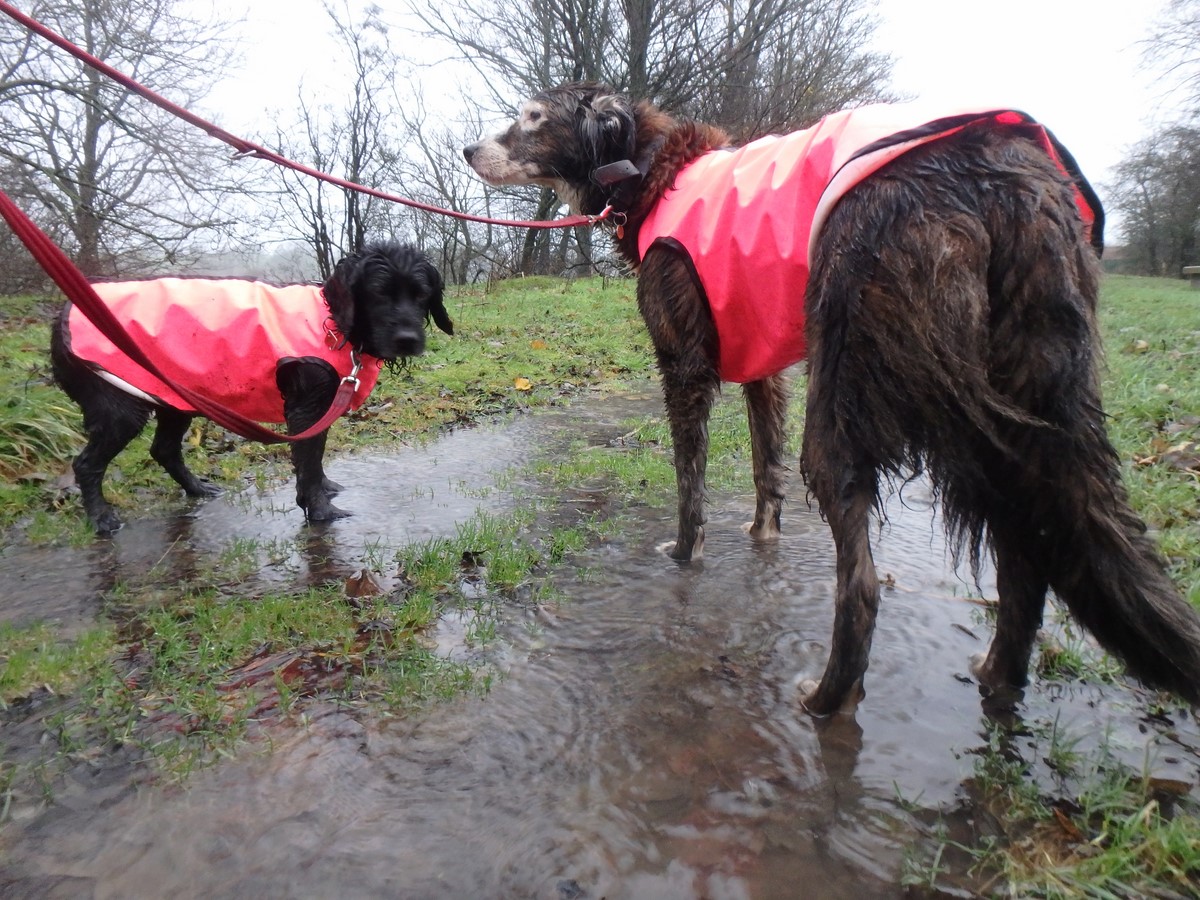 Fortunately Storm Desmond left The Trailway relatively unscathed, however the torrential rain throughout December took a toll on the village roads. While deep floods restricted road access around the village, the Hincaster Trailway remained flood free and the only dry route between Hincaster and Greenside for local walkers.
Viver Green Development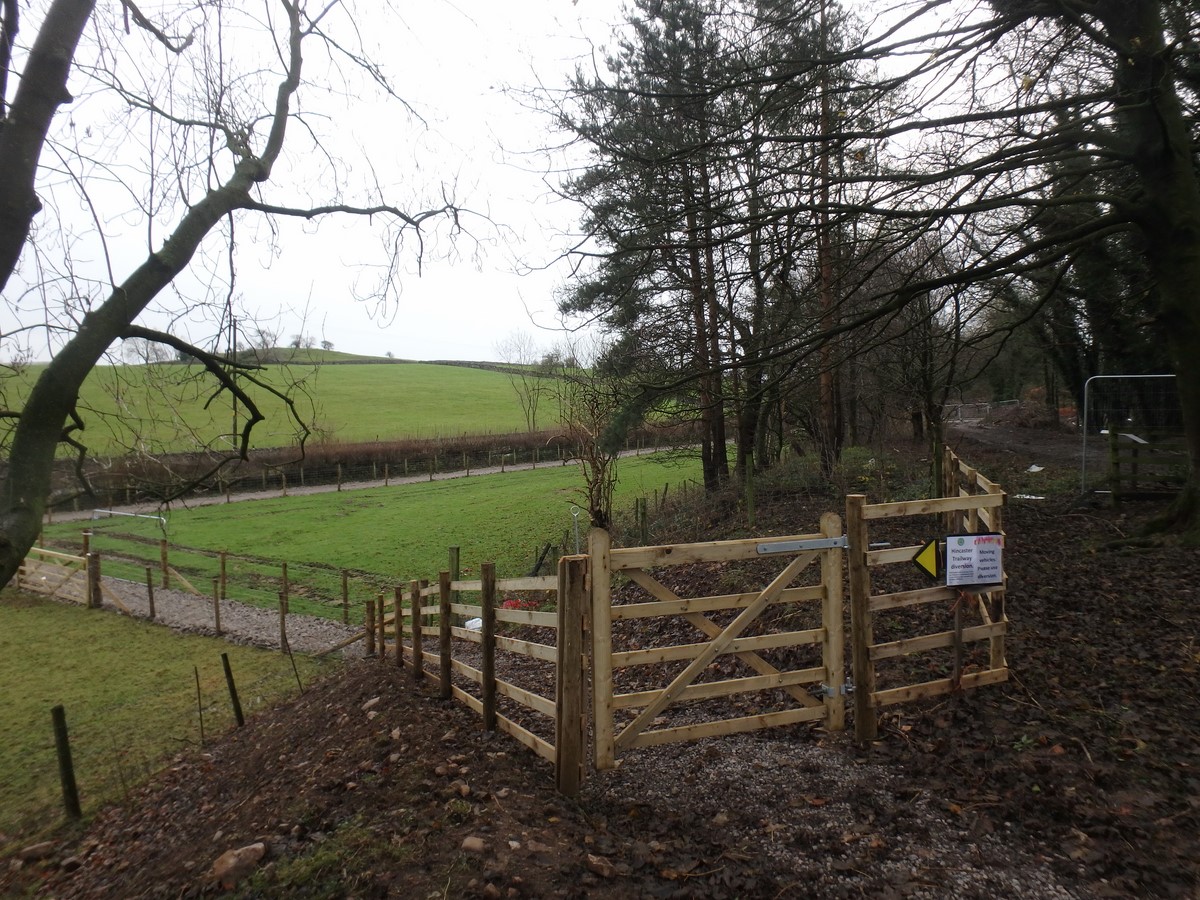 While building work is underway for the new Greenside Farm development, EGG Homes have provided an alternative route. As part of the development, EGG Homes are creating a designated off road parking area at Greenside, which will particularly benefit less able users.
Bicycling Brownies 15 June 2015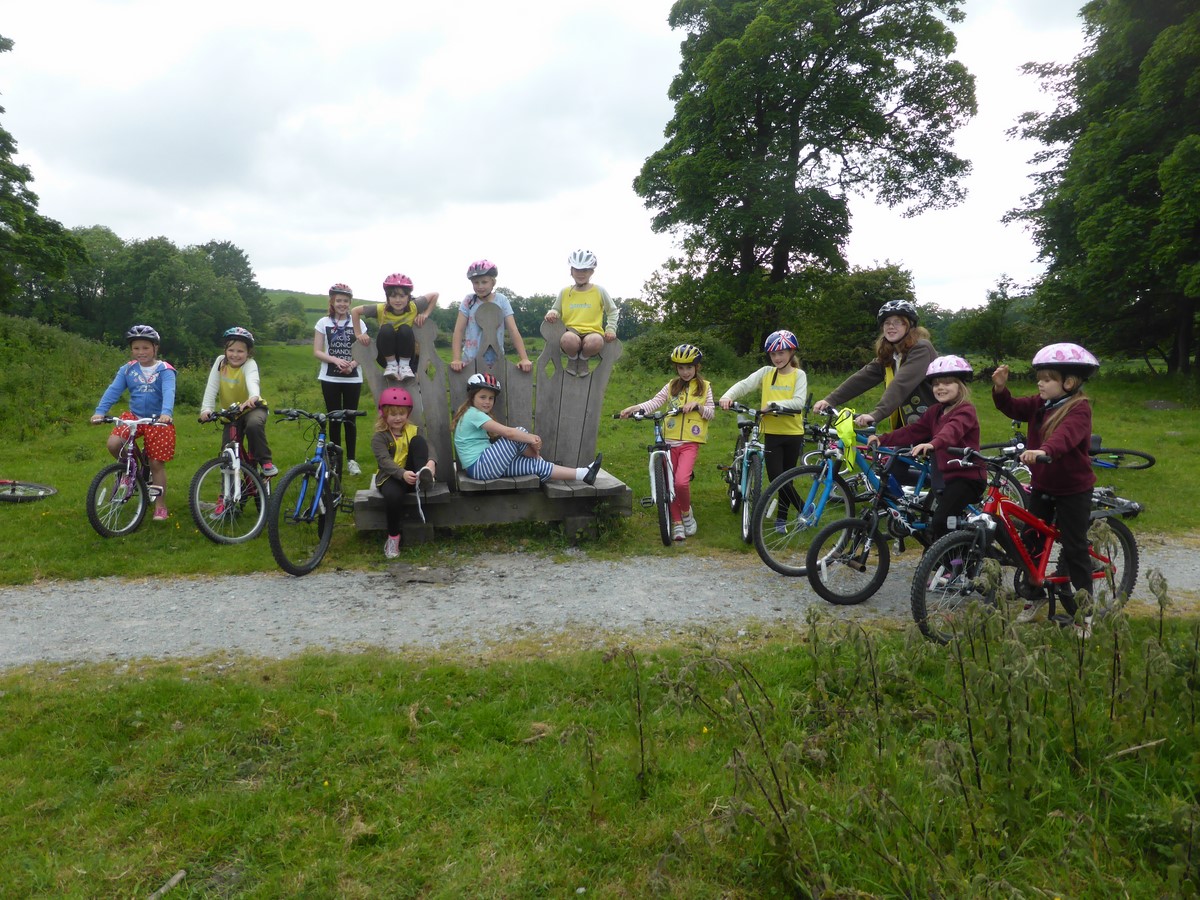 Levens Brownies held a summer excursion by bicycle and revisited the Trailway to view the Bench which they designed to mark the Olympics and Diamond Jubilee in 2012. A dozen Brownies attended and, together with helpers, they paused for games on the Trailway and a sausage sizzle before continuing under the watchful eye of Brown Owl, Sarah Dickinson.
Butterflies with Storth WI 20 August 2015
Members of Storth WI attended a craft workshop to create decorative butterflies. Using waterproof fabric from local business Coolcrafting, the butterflies were decorated with beads and buttons before being hung along the Trailway. Paper versions of the butterflies were made for the WI scrap book.
Hincaster Easter Event 3 April 2015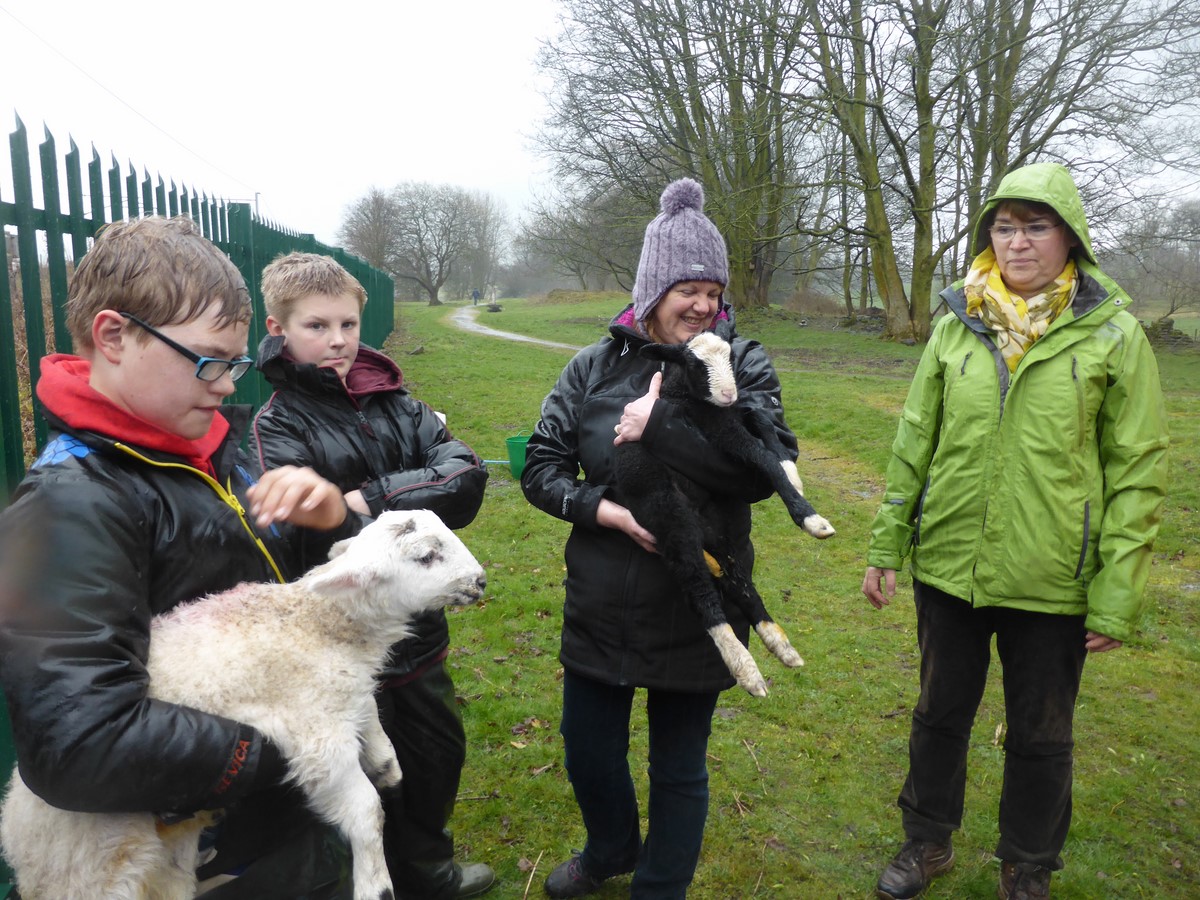 A scavenger hunt for locals, friends and family with Easter egg prizes was arranged on the Trailway. Photo opportunities were provided by the Dickinson family with their pet lambs. The pop up tea room provided much needed hot chocolate and hot cross buns. The Chocolate Quiz was won by Lis and Laura Tuckey.
Rhyming Ramble 27 May 2015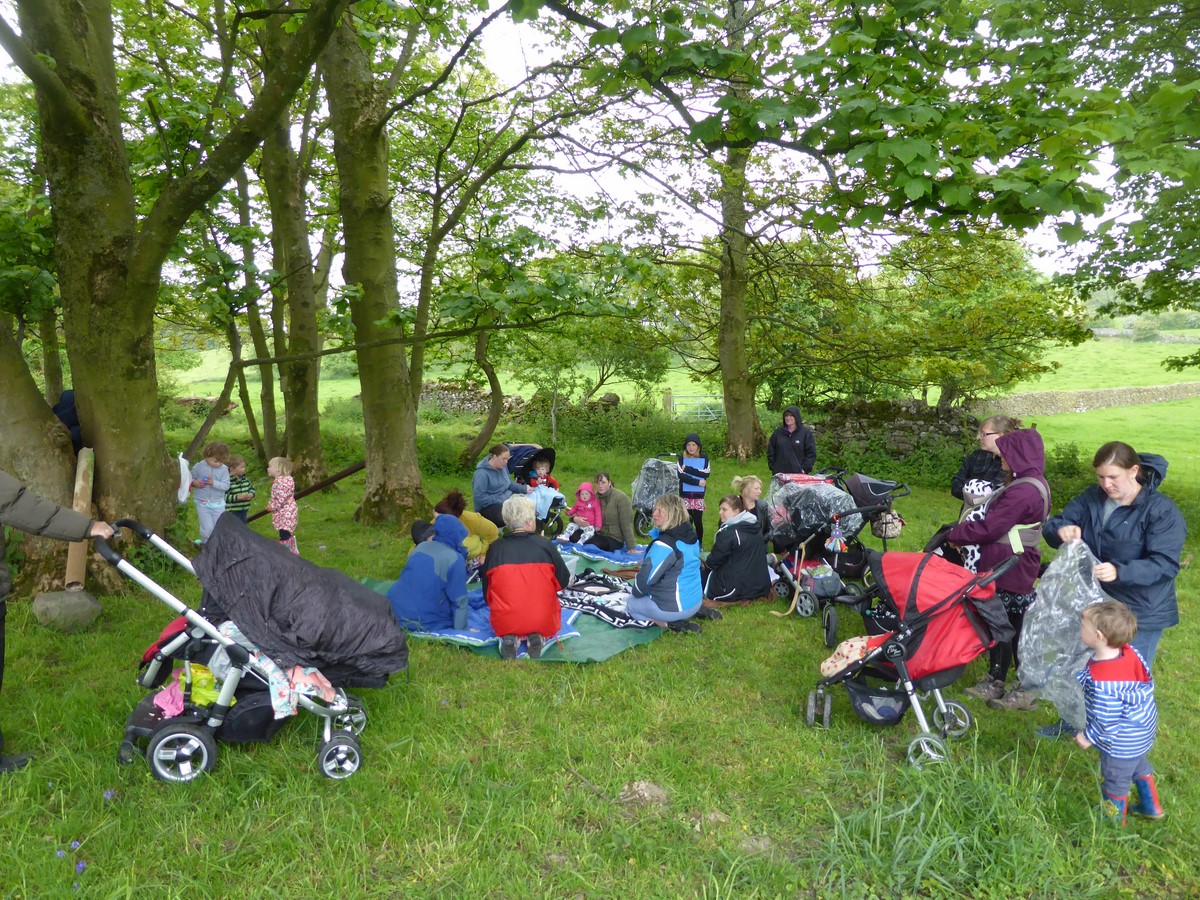 Parents and Grandparents joined Milnthorpe Family Centre along the Trailway during half term for a Rhyming Ramble. The event, organised by Sharon Howarth and Dawn Lockwood, attracted ten families from across South Cumbria. With 10 clues to some well known nursery rhymes, the children were kept busy with play activities and a singalong.
Amazing Owls! 28 October 2014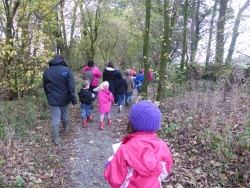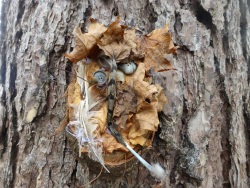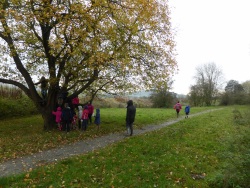 Pupils from Joeys After School Club, Milnthorpe visited the Trailway to view the fantastic owls which they had made from natural and recycled materials. The group of 15 children, aged 4 to10 years old, had to find the owls hidden in the trees, and joined in with bark rubbing, a fun quiz and collecting pine cones to make Christmas decorations.
Summer on the Trailway August 2014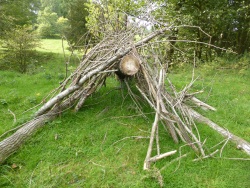 Is it a dinosaur skeleton or a monsters den?
A mysterious structure appeared on the Trailway this summer to keep the locals guessing. No idea who or what built it, but they made creative use of the branches and trunk from the poplar which fell last winter.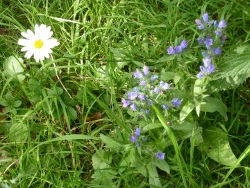 Less mysterious was the appearance of Viper's- Bugloss, a native
wildflower, from the seed mix donated by Local Area Partnership
wildflower initiative. The viper's-bugloss is actually a member of the
forget-me-not family of plants. It has tough hairy leaves and a tall
flower spike bearing dozens of blue flowers. It is found throughout
the UK, grows to a height of 90cms and flowers from June to October.
The nectar produced by the flowers is a good source of food for
moths, butterflies and bees. Many years ago it was thought that the
plant could be used as a cure for snake bites - hence the name.
It was also thought to cure melancholy.
These two remedies are not recommended!
Storth WI build bird boxes 25 June 2014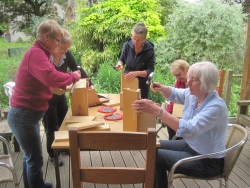 Members of Storth WI returned for their annual trip to help the Trailway. This year they spent an enjoyable morning making bird boxes for the Trailway. They used their woodworking skills to renovate and build 16 new boxes which will be sited along the Trailway in the spring ready for the 2015 nesting season.
The boxes are of various designs suitable for Blue tit / Coal tit / Marsh tit / Great tit / Tree sparrow / Pied flycatcher/ House sparrow / Nuthatch/ Starling/ Robin / Pied wagtail/ Wren / Spotted flycatcher.
Countryfest 31 May / 1 June 2014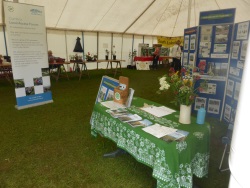 Westmorland County Agricultural Show Society kindly donated display space for the Hincaster Trailway stand at Country Fest. With over 14,000 people attending the 2 day event the display had plenty of visitors and our walk leaflets proved very popular. The stand also displayed information about Cumbria Local Access Forum.
Many thanks to our volunteers; Liz, Laura, Chris, Eve, Reg, Bridget and special guest Spicer, the spaniel, for manning the stall.
Gruffalo Walk 27 May 2014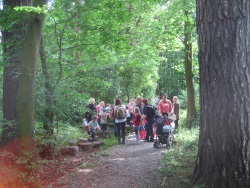 Milnthorpe Family Centre held a Gruffalo Walk along the Hincaster Trailway. The event, organised by Sharon Howarth and Dawn Lockwood, attracted twenty families from across South Cumbria.
After a live reading of the popular story, the children enjoyed learning through play activities included learning to brush the Gruffalos teeth, discovering Mouses favourite berries and searching for a snake.
Hincaster Easter Eggstravaganza 19 April 2014
All ages arrived on foot, cycle, pushchair and horseback to join in at the Easter Eggstravaganza organised by Hincaster Village Committee. With clues up and down the Trailway, Kim's Easter Egg hunt kept everyone running around and everyone won a prize. Muriel and Sara ran a selection of games and the pet lambs made a guest appearance. Refreshments were available from The Pop Up Tea Room. Prizewinners: Jayne Smith. Eggs in the Jar: The Famous Five . Nature Trail: Adam & Reg. Celebrity Quiz.
Winter storm damage March 2014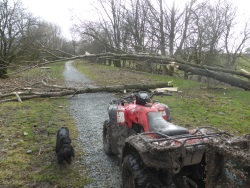 The winter storms left their mark along the Trailway but thanks to our landowners the fallen trees and debris were soon cleared and the Hincaster Trailway was open for business.
The Nature Trail created by students from South Lakes Federation at Heversham was in need of some maintenance and has been refurbished for the summer.
August 2013 - New Interpretation Panels
Interpretation panels have been installed along the Hincaster Trailway. With art work by Kendal based illustrator, Ian Naylor, the boards explain the history of the old railway line and significance as a habitat for wildlife. Photos and illustrations have been used with the kind permission of Cumbria Railways Association, Sara Hartley and Justin Wood. The panels have been funded by The Big Lottery Awards 4 ALL and Cumbria County Council Community Grants.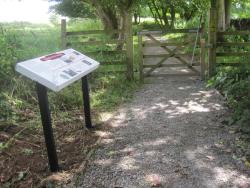 Summer 2013 - LAP Wildflower initiative
A South Westmorland Local Area Partnership initiative has provided wildflower seeds for the local community. Poor free draining soil is ideal for wild flowers and the old railway was an obvious choice. The seeds were sown in April 2013 and the cold spring provided a slow start. The warm summer favoured the annual and arable varieties with Poppy, Corncockle, Corn Marigold and Yarrow flowering along the Hincaster Trailway.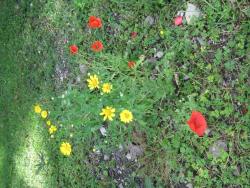 24 July 2013 - Thank You Tea on the Trailway
To celebrate the completion of one kilometre of wheelchair track, the Hincaster Trailway Group invited all fundholders to visit the project.
On a glorious sunny afternoon, delegates from Arnside Silverdale AONB, Leasgill Quarry Fund, The Hadfield Trust, Cumbria Bridleways and Storth WI attended the event.
The pop up Trailway Tea Room was set up in the shade of an oak tree and refreshments were served by Levens Brownies.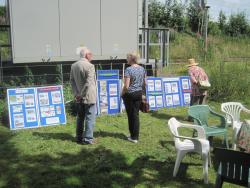 24 July 2013 - Barnados Big Toddle
Milnthorpe Family Centre made use of the Hincaster Trailway to hold their Barnados Big Toddle. Fifteen families took part in the free fresh air event organised by Sharron Howarth and raised over £100. A fairy tale treasure hunt was laid to encourage the young walkers along to their sunny picnic site and extra homemade cakes were supplied by the Hincaster Trailway Group and served by Levens Brownies.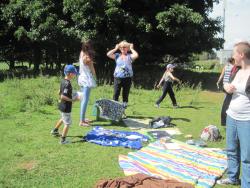 24 July 2013 - Cumbria Bridleways Donation
Tina Galloway, Chair of Cumbria Bridleways Society, and Sarah Urwell visited the new 1 km bridleway to present The Hincaster Trailway Group with a cheque for £1000 from CBS. The money will be used for further development of theWheelchair friendly bridleway.
CBS have been keen supporters of the Group since it was formed in 2008, inviting us to speak at their AGM and attend Packs & Tracks as well as attending many of our events. CBS is a constant source of contacts and knowledge about access issues.
Many users are discovering the Trailway and it is now a popular traffic free route for people of all abilities on foot, cycle, horse and wheelchair.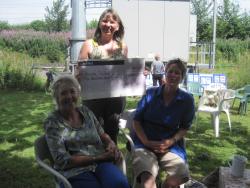 23 July 2013 - Storth WI try new skills
Four enthusiastic members of Storth Womens Institute made a welcome return to the Hincaster Trailway for a path clearing workparty. In preperation for summer use brambles and nettles were trimmed back from the path and there was the opportunity to try scything as a pleasant alternative to strimming. A picnic lunch was provided for the workers once the job was complete.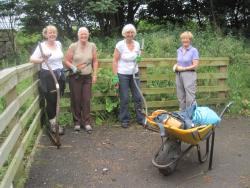 17 July 2013 - Cumbria Local Access Forum
The Hincaster Trailway was the focus for attention by the Cumbria Local Access Forum when they held a meeting at Dallam School, Heversham. Delegates heard a progress report and had the opportunity to try out the new 1km wheelchair track for themselves.
Representatives of Cumbria and North Lancashire Bridleways Societies , and the Cumbrian branch of The Disabled Ramblers joined the visit and the feedback was very positive. The Forum also visited the Arnside Silverdale AONB office and heard support for the proposed footpath across the Arnside viaduct .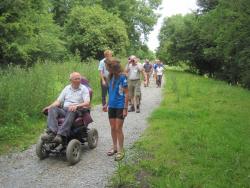 10 July 2013 - National Citizen Awards
Twenty students from across South Cumbria joined forces along the proposed Hincaster Trailway at Heversham to create a Bug Hotel. The students were working towards their National Citizenship Award and have been learning life skills and team work through outward bound and other group activities like volunteering. Under the watchful eye of coordinator, Peter Armitage, the 15 & 16 year olds used all natural building materials including wood, clay drainage pipes, wool and bamboo. The Bug Hotel will form a habitat for insects, invertibrates, amphibians as well as small mammals like hedgehogs and mice.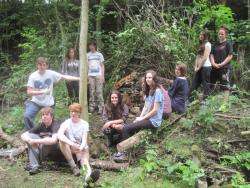 July 2013 - Dallam School Activities
Year 7 Students from Dallam School held their annual summer camp at Tristram's playing field at Heversham. The camp took place over 4 days and the pupils had the opportunity to learn skills such as collecting fire wood along the old railway line, building a fire and trying their hand at campfire cooking.
Over five hundred Dallam students took part in the annual school walk which, for the first year, made full use of the Hincaster Trailway before continuing to Sedgwick and Levens Park. On one of the hottest days of 2013, sunscreen and plenty of fluids were the order of the day as temperatures soared. Former Hincaster Trailway Committee Chairman, Steve Holdup, took part in his last year as Headmaster at the school.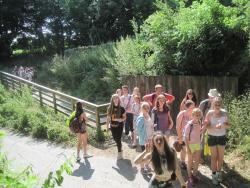 1& 2 June 2013 - Country Fest
Westmorland County Agricultural Show Society kindly donated display space for the Hincaster Trailway stand at Country Fest. With over 12,000 people attending the 2 day event the display had plenty of visitors and our walk leaflets proved very popular. Many thanks to our volunteers; Hilary, Sue, Eve, Bridget and special guest Spicer the spaniel for
manning the stall.
10 May 2013 - Bat Walk along the Trailway
The Bat walk along the Hincaster Trailway with Westmorland & Furness Bat Group proved a popular event for all ages. Even the dairy cows listened intently as Shirley and Sarah explained the importance of good habitat and roosting sites for bats in Cumbria. Although a chilly evening the bats eventually came out to feed on insects and, by using hand held bat detectors, they were identified as common and soprano pipistrelles.
Everyone appreciated hot chocolate and gingerbread afterwards.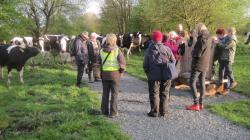 5 May 2013 - Hincaster Trail guided walk
Dressed for the weather, supporters of the Arnside Silverdale AONB Woodland Festival enjoyed a wet walk around Hincaster Parish. The Hincaster Trailway passes through mature woodland with early bluebells, cowslips, stitchwort , campion and Lords and Ladies. The 1 km of wheelchair friendly track was created with funding fron AONB Sustainable Development Fund.
The walk included Hincaster Tunnel on the Northern Reaches of the Lancaster Canal and Hincaster Hall featured by Alfred Wainwright.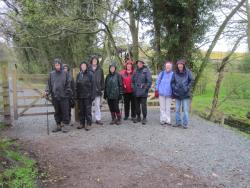 6 April 2013 - NLBS Trail Ride
Six members of North Lancashire Bridleway Society joined a ride led by Bridget Pickthall. Starting from Hincaster, the route took in 7 miles of quiet lanes and bridleways around Sedgwick, Natland, Crosscrake and Stainton. The riders had the opportunity to explore the 1 km bridleway created on the Hincaster Trailway. NLBS have been keen supporters of the Group since it was formed in 2008. As well as generously helping fund HTG projects, NLBS has provided mounted stewards for some events and is a constant source of contacts and knowledge about access issues.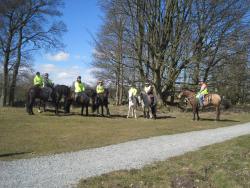 29 March 2013 - Easter Eggstravaganza
Hot chocolate and pet lambs were the main attractions at the Hincaster annual Easter event. With clues up and down the Trailway, Kim's Easter Egg hunt kept everyone running around to keep warm, and Muriel's Chocolate Quiz was as challenging as ever. Joan and Bridget operated The Pop Up Tea Room and the lambs appeared courtesy of Bradley Farm.
Everyone won a prize in the Egg Hunt and Helen Heseltine won the Chocolate Quiz. The pet lambs are currently appearing on Facebook!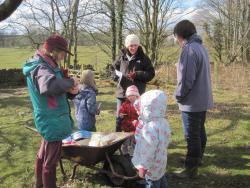 21 February 2013 - Child Minders toddle with Milnthorpe Family Centre
Milnthorpe Family Centre and Cumbria County Council Childcare Support is supporting Childminders by organising a programme of toddler friendly walks in the local area. The newly completed 1 Km of pushchair friendly track at Hincaster Trailway provided an ideal venue for their February outing. With everyone wrapped up against the cold, they could all enjoy the winter sunshine and (very) fresh air. Sharon Howarth of Milnthorpe Family Centre had arranged a healthy snack of hot chocolate and hot boiled potatoes, just the thing to warm chilly fingers. Denise King from Cumbria County Council Childcare for South Cumbria, was on hand with advice for the Child Care Professionals and explained the benefits of these free social outings for "a chat and some excercise in the fresh air". The feedback from the toddlers and pushchair users was all positive!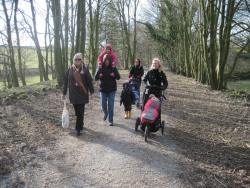 16 February 2013 - 1st Kendal Boys Brigade workparty
When the Hincaster Trailway needed a little spring maintenance, Kendal Boys Brigade offered to help. Under the guidance of Lieutenant Chris Mason the lads helped install a seat created by Hincaster resident, Derek Mason. Other jobs included fencing and greasing the bridleway gates. As part of National Bird Box Week the boys each built a bird box and fitted it along the Trailway.
The Trailway was busy with sightseers who had come to spot the steam train, Union of South Africa, passing on the main line.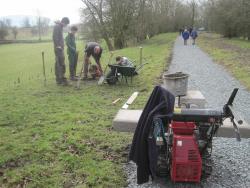 12 February 2013- Levens Brownies back on the Trailway
Levens Brownies and local furniture designer, Matt Turley, proudly posed with their project, Benchmark 2012, the new installation to celebrate the events of 2012. The project started last July and has been funded by The Big Lottery Awards 4 All. Everyone warmed up with hot chocolate and pancakes made by John Cushney for Shrove Tuesday. After a morning of fun and games exploring the Trailway, all the Brownies were presented with special Hincaster Trailway badges for their uniforms.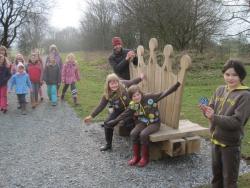 Winter News - December 2012 - Phase II of the Wheelchair track at Hincaster is now complete following generous funding for materials from The Hadfield Trust, Railway Ramblers and Councillor Brenda Grays allocation from Cumbria County Council. Work parties from Sustrans, South Lakes Federation, 1st Kendal Boys Brigade, Storth Womens Institute, Geocachers and South Cumbria Federation of Young Farmers Clubs have all contributed their time this summer. With the winter weather closing in, it was time for a final push from our most enthusiastic volunteers and with a little help from Sam with a digger, the full 1 kilometer is now surfaced. Regular users on foot, cycle, horseback and mobility scooters are delighted with the finished track and enjoying the opportunity to enjoy the countryside without getting too muddy.

Benchmark 2012: The celebratory installation created by local artist, Matt Turley, with inspiration from Levens Brownies is now in place along the Trailway at Hincaster. Funded by The Big Lottery Awards 4 All, the 6 seater podium and kissing seat commemorate the events of 2012 and are built from Cumbrian Oak. Designed to stimulate the imagination and encourage creative play, the materials used echo the landscape and are equally suited to quiet contemplation. Can you spot all the themes running through the bench?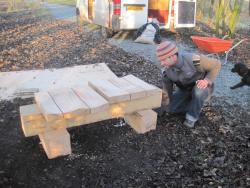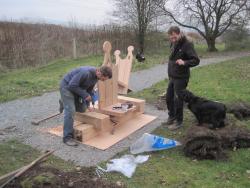 October 2012 - Hincaster Halloween Trail
If you go down to the Hincaster Trailway today,
Look out for spooky things along the way!
All through half term there will be things to explore,
With Spooky word search, bats, skeletons and more,
It's free, so come and see for yourselves
What lurks among the trees and dells.
We hope you enjoy our little bit of fun,
But if you get scared, go home to your Mum!
9 September 2012 - Westmorland County Show
An estimated 30,000 people attended the 2012 Westmorland Agricultural Society Show and Dallam School generously hosted our publicity material in a prime location on their stand in the Learning for Life Marquee. The display boards featured a history of the Hincaster Trailway project and a record of all our events from the last 12 months. As always, the Hincaster and Heversham Trail self guided walk leaflets proved successful and create a useful opportunity to engage the general public.
22 August 2012 - Milnthorpe Family Centre Bug Hunt Over 20 families attended the Bug Hunt organised along the Hincaster Trailway by the Milnthorpe Family Centre. Armed with collecting jars and magnifying glasses, the children set out to find and identify all kinds of invertebrates including spiders, slugs , snails and beetles. There was the opportunity to try snail racing, the woodland library and clay modelling before (washing their hands) and creating their own healthy snack.
"You can have a lot of fun outdoors just using a little imagination, these are all things you can try in their own back yard" said organiser Sharron Howarth " It's great seeing families out enjoying the countryside and learning about wildlife".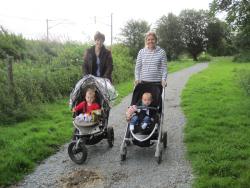 12 August 2012 - Hincaster Geocache Trail
Geocachers from all over the country descended on the hamlet of Hincaster in South Cumbria. Run as part of the Mega 2012 held at Cartmel Racecourse, this event offered dozens of families some free fun on a sunny Sunday afternoon.
With a nature trail for the children and the opportunity to try high tech treasure hunting using hand held GPS units, everyone was out searching high and low.
"We've had a fantastic week" said Geo cache organiser, Phil Wright, "and this is a special event for families with toddlers and pushchairs ".
The 1st Kendal Boys Brigade acted as marshals offering technical help with GPS units and The Trailway Tearoom was open for business serving drinks and homemade cake.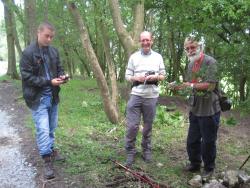 2 August 2012 - Storth WI ladies day
Regular supporters, Storth Womens Institute turned their hands to signposting on their latest workparty to help the Hincaster Trailway. Braving the brambles and nettles, the ladies positioned 2 new posts with waymarkers at the Greenside end of the Hincaster Trailway. The signposts and directional arrows will make the Greenside entrance to the Trailway more visible as more new users discover this local facility.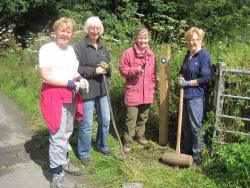 24 July 2012 - Hincaster Benchmark 2012
Hincaster Trailway Group are delighted to announce that we have been awarded lottery funding for a project enabling Levens Brownies to work with local sculptor, Matt Turley to create a feature for the Trailway. The project started last Tuesday with a fun day of creative play with the Brownies exploring the Trailway and the finished installation will be unveiled in the early autumn.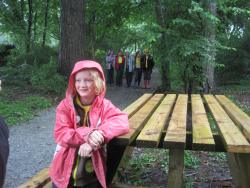 14 July 2012 - Boys Brigade back bench building
Starting from scratch with just a few fencing rails and bolts, the lads from 1st Kendal Boys Brigade used their woodworking skills to build a new picnic bench for the Hincaster Trailway. They even had time for a bit of chicken wrangling!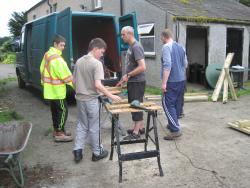 1 July 2012 - South Cumbria YFC Community Challenge
A team of Young Farmers from Grayrigg, Crook and Kent Estuary turned out for the South Cumbria Federation Community Challenge. As a break from their day jobs, they gave up their time to help a local project. Under the watchful eye of their President, John Dickinson, and Chair, Tom Redmayne, they laid 200 metres of wheelchair track along the Hincaster Trailway in South Cumbria.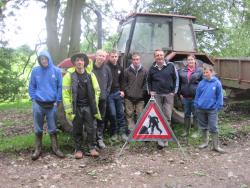 15-17 June 2012 - 1st Kendal Boys Brigade work camp
The 1st Kendal Parish Church Boys Brigade arrived fully equipped for their weekend camping on the Hincaster Trailway.
The monsoon like conditions did not discourage them from pitching camp and, with their own chef and mess tent, they were well fed all weekend. During their stay the lads laid 20 tons of gravel along the wheelchair track. Under the supervision of Lieutenant Chris Mason, Lieutenant Roan Sterling, Captain Nick Dobson and Leader Ian Dixon, they also built a picnic table using fencing rails.
"This is an great opportunity for the lads to practice their camping skills and try their hand at some new ones, " said Chris. The Boys invited guests including The Reverend Rob Saner- Haigh, from Kendal Parish Church, and his family for a full roast dinner on Saturday evening followed by a traditional campfire.
3 June 2012 - Jubilations on the Trailway
The Hincaster Trailway joined in with The Queens Diamond Jubilee celebrations by entering the Great Jubilee Gate Dressing competition which was held throughout the Parish. Villagers and visitors walking round the village admired 30 decorated gates. Sadly we didn't win a prize but it was so well supported it may become an annual event, so there's always next year!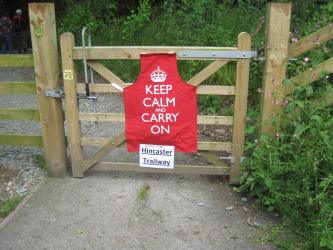 31 May 2012 - Sustrans Track Workparty
Sustrans, the sustainable transport charity, continue to support the Trailway work parties with volunteers and loan of tools. Since Sustrans Engineers taught us how to build the wheelchair track in July 2011, we have completed over 1000 square metres of track using over 600 hours of volunteer time. Back to complete another 90 metres of track, Area Manager, Nikki Wingfield, and Site Engineer ,Andy, ensured build quality was maintained while Volunteer Coordinator, Mike Dagley provided one of his legendary picnic lunches.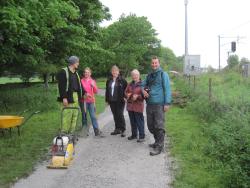 26/27 May 2012 - Packs & Tracks @ Countryfest
Glorious weather drew the crowds to Countryfest where Cumbria Bridleways Society had generously donated space for the Hincaster Trailway Display inthe Packs & Tracks area. Packs and Tracks is a celebration of the role of people and horses in shaping Cumbria's landscape through the ages up to the present day. It's recognition of the value of the historic packhorse routes which crisscross Cumbria and have been used and enjoyed for centuries, for transport and for pleasure, by local people and visitors alike.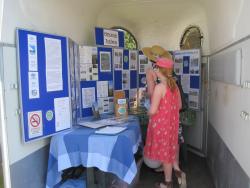 May 2012 - A-mazing Snail Trail
Using a tape measure and length of hosepipe, two of our regular Trailway Volunteers, Jean and Ed, plotted out the grass maze design during spring half term. Once they were happy with the design , it was time for South Lakes Federation students to move in to lift the turf before laying gravel to complete the project. The Snail Trail grass maze is now a permanent feature on the Trailway at Hincaster just waiting for you to come and explore.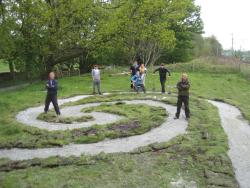 6 April 2012 - Hincaster Easter Eggstravaganza
They came on foot and in backpacks, with dogs, cycles and a scooter, all ages to take part in the Easter Egg Hunt along the Hincaster Trailway. There were 28 correct entries and everyone won an egg.
The Pickthall pet lambs made their annual appearance for cuddles and photo opportunities. The anagram quiz proved very popular and quite complicated with the closing date extended to the next day. There were 6 correct answers and Gillian Lewellyn 's entry was the first drawn out of the hat.
The Mission Room was converted into a Pop up Tea Room with home made cakes and hot cross buns.
The event raised £46 for village funds so a big thank you to everyone who came along and helped out.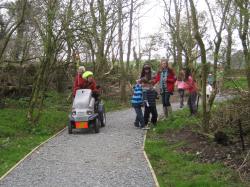 28 March 2012 - Arnside Silverdale AONB visit
Members of the Arnside Silverdale AONB Sustainable Development Fund Committee visited the Hincaster Trailway to experience first hand the community project supported by their grant. The Fund has provided £2500 towards phase 1 of building the wheelchair track built during 2011 with volunteer workparties.
Arnside Silverdale AONB have supported this project since it was launched in 2008, previously funding an Environmental Survey, supplying expert knowledge and donating tools for work parties.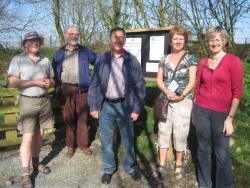 25/26 February 2012 - Dry Stone Walling Association Weekend
We were delighted to welcome back hardy members of the Dry Stone Walling Association who had turned out for their first working weekend of 2012.
They were joined on Saturday by our regular Duke of Edinburgh volunteer, Ed, who was able to learn some of the skills involved with the craft.
The DSWA members are regular helpers along the Hincaster Trailway, and over the last 12 months they have redesigned and rebuilt the walls either side of the ramp at Hincaster, contributing many hours of skilled labour.
February/March 2011 - Access Ramp at Hincaster
The Trailway Group now have a fantastic new access ramp following a grant from Cumbria Waste Management Environmental Trust, match funded by CCC Countryside Access. This section of the Trailway is now in use as a permissive bridleway for walkers, mountain bikes and horses. The work was completed by P.J. Lambeth Groundworks.