The story so far
The Hincaster Trailway is already providing a focus for local people and families. It has afforded an exciting opportunity for people of all ages and abilities to get actively involved in the planning and development of an asset which will be there for generations to come. The whole project is alive with participation from interested groups of all ages, from the development of our logo with St Peters Primary School pupils to work parties with Wings School, North Lancashire Bridleways Society, South Cumbria Federation of Young Farmers Clubs, Cumbria County Council Access Volunteers and Arnside- Silverdale AONB Volunteers. The Trailway has hosted events for Milnthorpe Family Centre, Cumbria Local Access Forum and "Our Green Space" Project and run a programme of walks with Friends of the Lake District as part of the Kendal Limestone Festival. The Hincaster Trail self guided walk leaflet proved most successful as publicity material.
Early in 2011, a new ramp at Hincaster opened up a 1km section at the northern end of the disused railway line. The Hincaster Trailway Group worked with Cumbria County Council's Countryside Access team to secure funding from the Cumbria Waste Management Environment Trust to fund the ramp. With landowner support this will be dedicated as a public bridleway.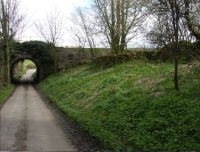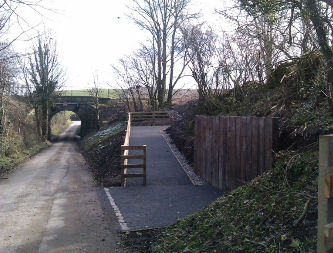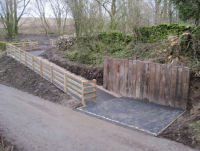 Following volunteer efforts from The Dry Stone Walling Association, North Lancashire Bridleways Society, AONB volunteers and Age UK "Men in Sheds", plans evolved to upgrade the surface so that it is suitable for all users including wheelchairs. Sustrans trained students from Queen Elizabeth School, Kirkby Lonsdale and Dallam School, Milnthorpe in the construction of the wheelchair track. Materials for Phase 1 of the track were funded by a Grassroots Grant from Cumbria Community Federation together with grants from Arnside Silverdale AONB Sustainable Development Fund, Holehird Trust and South Lakeland District Council Community Leisure. During 2011, Storth Womens Institute, North Lancashire Bridleways and Cumbria County Council Countryside Access Rangers and Volunteers all took part in track building workparties.
With the first 500 metres of track in place, the challenge for 2012 was to complete the full 1 km. Phase II of the Wheelchair track at Hincaster is now complete following generous funding for materials from The Hadfield Trust, Railway Ramblers and Councillor Brenda Grays allocation from Cumbria County Council. Work parties from Sustrans, South Lakes Federation, 1st Kendal Boys Brigade, Storth Womens Institute, Geocachers and South Cumbria Federation of Young Farmers Clubs all contributed their time. Regular users on foot, cycle, horseback and mobility scooters are delighted with the finished track and are enjoying the opportunity to enjoy the countryside.
Benchmark 2012 is a celebratory installation created by local furniture designer, Matt Turley, using ideas from Levens Brownies who were inspired by the Queen's Diamond Jubilee and London Olympics.
The 6 seater podium and kissing seat, funded by The Big Lottery Awards 4 All, commemorate the events of 2012 and are crafted from locally sourced Cumbrian Oak. Designed to stimulate the imagination and encourage creative play, the materials used echo the landscape and are also suited to quiet contemplation.
In 2014, the Hincaster Trailway Group was proud to be granted Charitable status.
After a 2 year development, a collaboration with Barrow based Art Gene resulted in the Hincaster Trailway featuring in the Seldom Seen map and free app launched in 2016.
In Spring 2017 the designated Trailway carpark at Viver Green was completed by the developers of Egg Homes.
This is a community based project to create a local space for nature and people. We aim to continue expanding our programme of work parties and events, and encourage participation and eventual use by all, regardless of ability and social group.
Hincaster Branch Line History
The railway line from Hincaster to Arnside in South Cumbria came into use in 1876. Until 1942 a passenger service nicknamed "The Kendal Tommy" linked Grange-over-Sands with Kendal and boys from Grange travelled daily to attend Dallam School at Heversham.
"1876 3 June. It was reported that the Hincaster Arnside branch line was completed, and that a heavy train of waggons loaded with iron and drwn by 3 engines has been leisurely taken from Arnside to Hincaster and back to test the stability of the work. It was not intended at present to make the line double although sufficient land had been acquired for that purpose. On the 26th June the railway was opened tfor passenger traffic and four trains were scheduled to run each way daily, except on Sundays. The times of departure from Grange being 7.20,10.10,2.40 and 4,30; and from Kendal 9.30, 11.40, 3.40 and 5.40. The Furness Railway Company received it's power to construct the line by a Bill passed in Parliament 16 july 1866, to raise £200,000 in shares and £66,300 on loan. Running powers were also conceded to the London and North-Western Railway Company." (Westmorland Gazette).

From 1916 to 1960 the line was busy with perhaps six to eight mineral trains each way daily, bringing coke from South Durham to fuel the major iron and steel works at Barrow and at one-time also for the ironworks at Millom, Askam and Ulverston. Although rarely economic, the line did come into its own during 1914 – 1918 when Durham coke kept the Furness Steel Industry going enabling destroyers and frigates to be built at Barrow. Lloyd George referred to it as 'the life line of Britain'. After the Barrow works closed the line was little used and the section north of Sandside closed in 1963 with the Arnside-Sandside section remaining to serve the quarry at Sandside until 1968.
The rails Hincaster to Sandside were removed in 1966, the Bela viaduct demolished in 1973 and the land sold to the adjacent farmers and landowners.
The Trailway at Hincaster is adjacent to the West Coast Main Line and is a popular viewing spot for train enthusiasts, particularly when a steam train is scheduled along the main line. Mark Grice took this brilliant film of A4 Pacific 60009 "Union of South Africa" as she steamed past in February 2013 www.youtube.com/watch?v=14QzCSUTq74

Mainline Steam Tour train times can be found at www.uksteam.info/tours