How You Can Help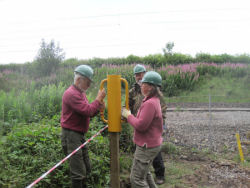 You can join the Hincaster Trailway Group and receive regular updates on progress. Membership is free and you will have the opportunity to take part in our calendar of events and help with the development of the route. Check out Events & Activities for dates for your diary.Or email info@hincastertrailway.co.uk
The Hincaster Trailway Group is a registered charity and is financed by grants and donations. If you would like to make a donation to help with our programme of activities, please contact The Secretary by emailing info@hincastertrailway.co.uk
We welcome any feedback and suggestions from Trailway users and will try to make improvements where we can.
The Hincaster Trailway moves people in mysterious ways, some are inspired to pick up a shovel...some prefer to pick up a pen!
In Praise of the Hincaster Trailway by Ken Jenkins
With feet dry as cork
I left home for my walk,
To get rid of the corpulence
After so much indulgence.
Near Greenside Lodge, found my new boots were dud,
After having to wade through the treacherous flood.
But with willpower still strong
I strode quickly along.
Viver Lane was a joy
But… what's that ahoy?
Near the bridge there's more water
Across the road—should I ought to…
Turn back and go home? Nope
Still filled with great hope,
Squelched manfully on, but feeling my age,
Found a flood by The Orchard, by the Village.
What a delight, as it came into sight…
But the road by the Green cannot be seen;
It's covered by water and foul looking mud,
Yet again have to wade through a horrible flood.
Am now in a mess, let's get out of this place,
Head for home quick, at a very brisk pace.
But down in the dip, no longer its dry,
The line shows the flood's over one foot high.
Despairing and miserable, turn round and go back
From whence I had come, neath the railway track,
Then what did I find, to fill me with hope…
The Hincaster Trailway… now I could cope.
At last…a dry pathway, as well as a seat,
What manna from heaven, for sodden wet feet!
Full speed to Greenside on a dry, level track…
And what great joy, at last, to safely get back…

The Trailway Ramp by "The Cap'n & 1st Mate"
The Trailway Ramp. Have you experienced it yet?
A lovely smooth surface now the tarmac has set.
Take a walk & explore this first class delight.
Better than any council road, not a pot hole in sight!